Make a smart move in your life by replacing the oven lamp by yourself. Today PartsFPS team brings you the basic and simple tips for replacing the oven lamp within a few minutes. Let's start the project.
Before attempting any maintenance or cleaning, unplug this appliance from the power supply to minimize the possibility of electric shock.
Basic Precautions before replacing the oven light bulb:
• Before replacing the bulb, wait until the oven is completely cool.
• On models with Oven Light On/Off pad, turn off the oven light off. Make sure that bulb is completely cool.
• Disconnect power to the appliance.
Steps of removing the light bulb:
• Turn the glass cover counter-clockwise for 1/4 turn. The grooves of the socket should clean the tabs on the cover.
• Lift off the cover.
• Remove the bulb by pulling it straight out, using gloves or a dry cloth. Touching the bulb with your bare hand is not advisable.
• Replace the bulb with one of the same type. Most models use one of the following: Appliance bulb: 40-watt appliance bulb. Use a new, 120/130 volt G6.35 Halogen bulb or you can use a new, 120/130 volt G9 Halogen bulb. Check your model number and the manufacturer name to select and buy the perfect oven lamp to replace the old faulty one.
• Now re-install the cover by turning the cover clockwise 1/4 turn, after placing the tabs in the grooves of the socket.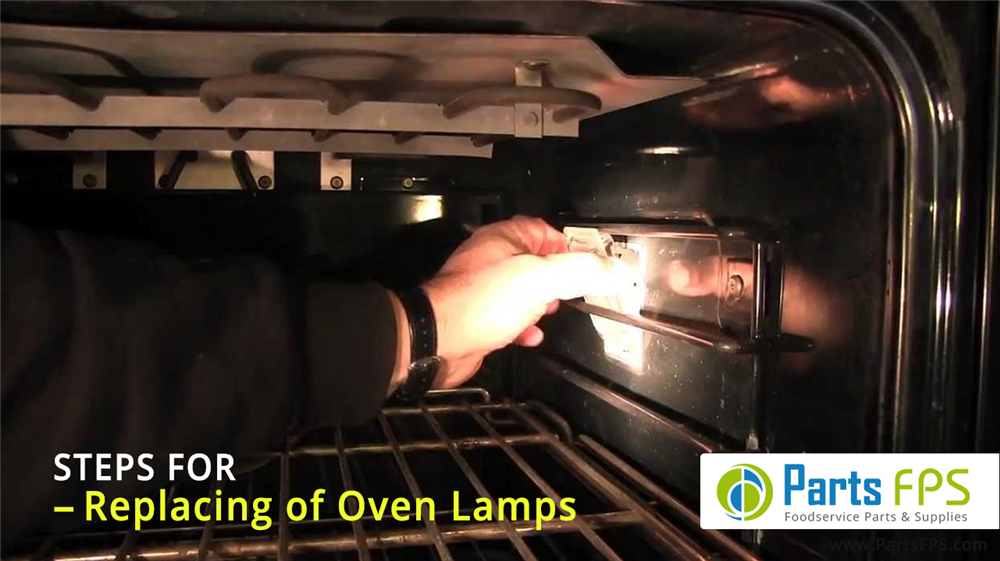 Now turn on the oven to check the oven lamp. Hope you have successfully replaced your faulty lamp. If you have landed on this page means you are interested in replacing your oven parts by yourself. And modestly PartsFPS can say that we can help you this whole process with our valuable guidance. To keep your oven in good running condition check our different guidance article that will walk you through the process and helps you to save money by doing it yourself. PartsFPS is the leading wholesale Distributor of Commercial kitchen equipment Parts and Accessories. We can help you to choose your Best Replacement Parts that come with the excellent quality of Products at very reasonable prices. So go for it best of luck!